Thursday 9am-12:00pm (AMC)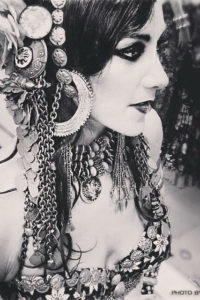 Rachel Brice: Twitch (3hrs)
Contrasting fluid technique with quick isolations + musicality = WHOA.
In this workshop we'll learn how to develop the contrasting qualities of fluid and percussive. We'll experience two different types of practice: One to build both flexibility and control for slow movements, and one for speed for clean hip-work and locks.
This 3-hour workshop has two segments of 90 minutes each:
Part One: We'll learn how to gain speed and clarity for locks, hip-work, and several shimmies through a carefully constructed practice sequence.
Part Two: We'll learn phrases that integrate both slow and fast movements, and serves up a heavy dose of musical interpretation. You can use these combos for practice or performance.
Please be warmed up for this class. Bring water. All Levels
Thursday 9:00am-12:00pm (GCC)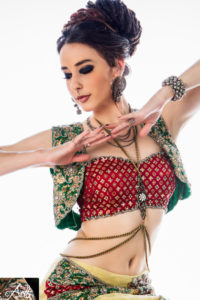 April Rose: Trap Fusion Choreography (3hrs)
Let the bass infect your bones and learn an isolation-heavy, hip-hop-groovy, adults-only dance to a sick Trap song! Trap music originated in the early 2000s from Southern hip hop. It is typified by its aggressive lyrical content and sound, which incorporates 808 sub-bass kick drums, double-time, triple-time, hi-hats, pitched-down vocals, layered synthesizers, and "cinematic" strings. Feeling like a bad-ass is a side-effect of learning this dance.
-Advanced
Thursday 12:10-2:10pm (AMC)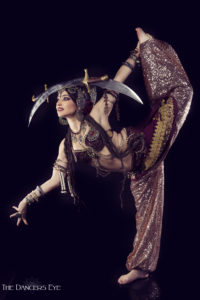 Silvia Salamanca: Cues & Blades! (2hrs)
ITS MOVES WITH THE EDGE OF THE SWORD!
Dancing with a sword and bringing in the sisterhood of ITS? Is that possible? Heck yes!! In this workshop we will learn a series of moves (slow tempo AND fast tempo) based on the ITS format that use the edgiest prop available…the sword!! We will begin by breaking down the moves, and explaining the necessary technique to execute them well, and we will also include a few formation changes that use the shapes of the blades to create mesmerizing patterns in a group.
Thursday 12:10-2:10pm (GCC)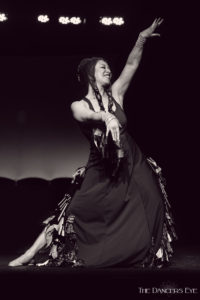 Donna Mejia: Movement Invention in Hip & Torso Work (2hrs)
After drilling foundation hip work and shimmies, we will plunge deeply into learning a variety of pelvic and torso articulations born from Donna's adventurous imagination: wave-drops, whiplash body undulations, quaking circles, black-ice slides, spiraling undulations, elastic vine drops, rebounding figure 8's, and many more concoctions. This workshop is most beneficial for dancers with a confident and well-practiced foundation in hip work already. Please bring a yoga mat for warm-up.
Thursday 2:20-4:20pm (AMC)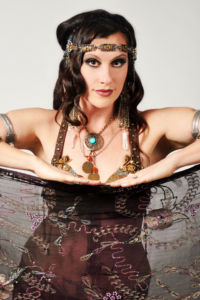 Rose Harden: The Anatomy of Articulation (2hrs)
This is a must for dance instructors. Dive into the inner workings of the body and how to use our most important tool to its full potential. We are going to nerd out on alignment and anatomy and how they influence healthy movement directly relating to our dance form. We will explore how we can create new neuromuscular pathways that will keep your body happy and get the most from your practice. This is an applied lab class that combines lecture elements, handouts, exploration, and dance so come prepared to activate your brain and your body.
Thursday 2:20-4:20pm (GCC)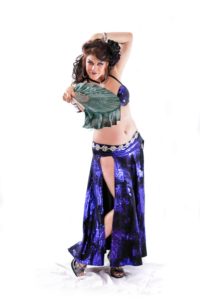 Madame Onça: Fear No Sexy: Burlesque Flair (2hrs)
Fear No Sexy: Burlesque Flair. Let's be unapologetically sexy and laugh ourselves silly in this burlesque-fusion playshop. Dance allows us to celebrate ourselves, in all our honest glory, whoever we are and whatever we've got to work with. An overview of burlesque and its historical relationship with belly dance will be followed by belly-esque drills, then sexy combos with waves of laughter. Wear whatever makes you feel sassy! Dance heels optional. All levels/bodies/genders/identities welcome!
Thursday 4:30-5:30pm AMC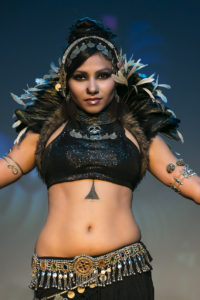 4:30-5:30pm Bindu Bolar a.k.a. Tribalina: Belly-Animation (1hr)
Learn an absolutely new fusion style of Belly Dancing, unique and individual to the artist Bindu Bolar : Belly-Animation. This fusion style incorporates Tribal Fusion Belly Dance with Animation elements. Learn some intense yet fun, pop-lock combos layered with Tribal Fusion belly dance moves that will add that little extra to your performance. Add another dimension to your performance with some robotic moves. Learn some basic Animation elements like Ticks, Waving etc. Learn character building into your performance. Want to make the audience go how did she do that? Want to make them say Whoah! What just happened? Want to add that wow factor into your dancing? If yes, this is the workshop for you.
Thursday 4:30-5:30pm (GCC)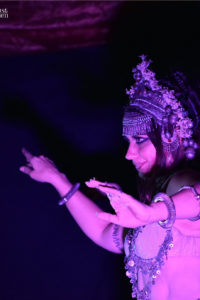 4:30-5:30pm: Elizabeth Ashner: Introduction to Fusion Belly Dance (1hr)
Get into the spirit of Elevation Belly Dance Extravaganza! This 1 hour workshop will serve as an entry point to the world of fusion belly dance. Learn what the roots of this style are all about and get started with the basic moves and concepts. Elizabeth has been producing the Elevation Belly Dance Extravaganza for 15 years and is excited to share her passion. Tap into the world of fusion belly dance with this ABSOLUTE BEGINNER class offered especially for the local Colorado community who might be curious to learn what it is all about.
Friday 11:15am-1:15pm (AMC)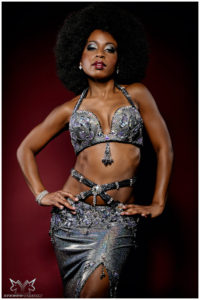 Ebony Qualls: Ebony's Secrets To Polished Group Pieces (2hrs)
This workshop will provide you with a toolkit of best practices to elevate duets and group choreographies to stage-ready status. Practice exercises that establish and maintain stage presence, energy and intentional decisions amongst a group. Learn insider tips and tricks to creating the cleanest formations, seamless transitions and perfectly synched up technique and movements.
*Notebook and pen recommended
Friday 11:15am-1:15pm (GCC)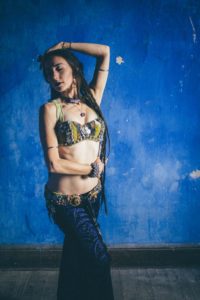 April Rose: Timeless Bellydance (with cymbals) (2hrs)
Learn an artfully arranged combination of tribal and Raqs Orientale movements, layered with sagaat patterns, to create a rooted and regal vision of belly dance that highlights the essential principals of this dance form and spans across sub-genre labels. In this dance we aim to distill the form down to its timeless, trendless beauty.
*Bring Finger Cymbals
-Intermediate
Friday 1:30-3:30pm (AMC)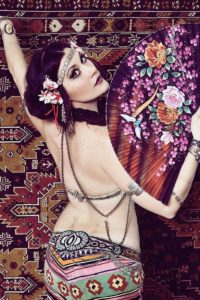 Rose Harden: North African Fusion Technique & Choreography (2hrs)
In this workshop we will explore the earthy influence and stylization of North African dance in Tribal Fusion Belly Dance. Tunisian, Moroccan, and Zaar influenced movements will be broken down and drilled and then applied to a choreography. Rose will share her unique take on these forms and how they have influenced her approach to dance.
Friday 1:30-3:30pm (GCC)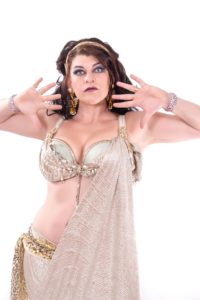 Madame Onça: Theatricality: Bridging Personality & the Stage (2hrs)
How do you connect with your audience? How do you harness your intentions in performance to make meaningful art? Who are you and what are you trying to say? This stagecraft workshop will cover the basics and then expand into an exploration of how we can choose to fully engage our viewers. Concepts will be presented and then workshopped, using drills and creative prompts. Expect to feel all the feels as we laugh, cry and strive for authenticity onstage. All levels/bodies/genders/identities welcome!
Friday 3:45-6:45pm (AMC)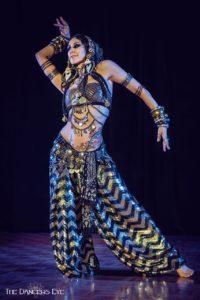 Rachel Brice: Dance Better Than Yourself — Discussion & Guided Practice (3hrs)
Baryshnikov said, "I do not try to dance better than anyone else. I only try to dance better than myself." After achieving their goals, dancers often tell me they feel different than they expected, don't know where to go next, or feel like they need to take a break to get excited again. So the question is: How do you continue to grow and stay focused and motivated? How do you find new ways to "dance better than yourself" and dig deeper into technique, musicality, expression, improvisation when you don't feel like it? How do you find your own style, your own voice, your motivation to keep going?
Half creativity workshop, half dance class, we'll have a group discussion followed by dance practice. Bring a notebook, a pen, water bottle and dance / yoga clothes.
Friday 3:45-5:45pm (GCC)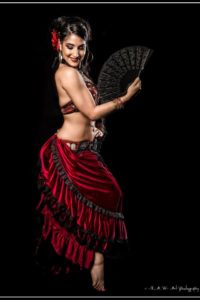 Silvia Salamanca: Latino/Brazilian Drum Solo (2hrs)
Let's add some flavor to that drum solo!! Learn the steps to some of Latin America and Brazil's most famous and contagious beats. Understand the similarities in rhythms in the music and apply them to an Arabic drum solo. Want something different to mesmerize your audiences with, this is it!!
(intermediate to advanced and pro)
Saturday 8:30-10:30am (AMC)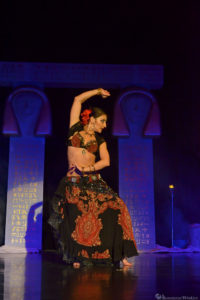 Silvia Salamanca: The Most Spanish Prop: "Manton" (2hrs)
Who has not been intrigued by the mystery that is evoked watching a dancer unwrapping from a "mantón" (Spanish triangular shaped shawl)? In this workshop we will break down the proper technique, the steps and the combinations in the use of the mantón to build an entire routine full of feeling and intensity. Please bring a skirt and a mantón (any triangular scarf big enough to wrap yourself in it will do, we will do the rest with attitude and a big olé!)
Saturday 8:30-10:30am (GCC)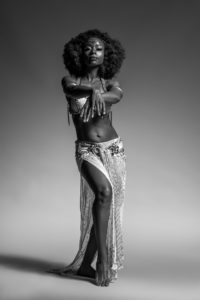 Ebony Qualls: Layer Cake: Advanced Fusion Layering & Choreography (2hrs)
Get ready to multitask! We'll start by drilling basic undulations, accents and shimmies with an emphasis on isolating these movements. Then we'll embellish those basics by layering them one at a time. Kick it up a notch with traveling steps to create clean layers along with strong and controlled movement. Learn powerful, yet graceful, combinations that can be used in choreography or improvisation. Dance shoes recommended but not required.
Saturday 10:45am-12:45pm (AMC)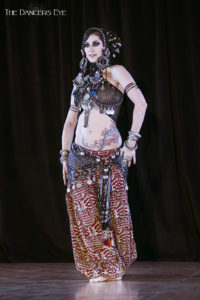 Rachel Brice: Datura Style™ Combos for Improvisation: Slo-Mo Vocabulary & Structured Improvisation (2hrs)
Learn belly dance combinations that combine American Cabaret and Fusion belly dance styles, with a heavy dose of rhythmic interpretation and emphasis on posture, arm placement, and huge, relaxed hip-work. Use these combinations in your next choreography or integrate the Datura Style™ Combos into your group's improvisational vocabulary.
Experience with belly dance recommended. Brush up on your spins and ATS® for this one, and bring a towel and water bottle. (Intermediate through advanced)
What is Datura Style™?
Datura Style is an umbrella term that encompasses both a technique method and a dance vocabulary. This style has emerged from Rachel's years spent integrating, fusing, and distilling a number of dance influences.
The aesthetic presentation for Datura's vocabulary is primarily inspired by Jamila and Suhaila Salimpour's work from the video Suhaila Dances for the Sultan, Masha Archer's approach to "moving sculptural composition," Carolena Nericcio's polished and organized presentation of the body and approach to improvisational vocabulary for groups, Jill Parker's posture and serpentine technique, John Compton's joyful approach to dance, Mardi Love's dedication to quality materials, and many contemporary approaches to improvisation.
Datura Style is designed to complement other forms, in addition to being a complete expression of her own.
Saturday 10:45am-12:45pm (GCC)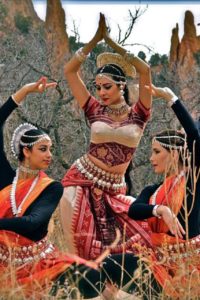 Tejas: Odissi: Boohmi Pranam (2hrs)
Learn Bhoomi Pranam: bowing the ego, a blessing from the earth and a prayer to the Gods. Learn Odissi East Indian Classical Dance Steps: Threebhanga, the feminine, and Chowka, the masculine, as well as several combination steps. Learn beautiful eye and torso movements.
Saturday 1:00-3:00pm (AMC)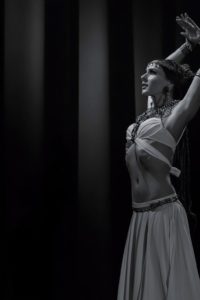 April Rose: Elegant Precision (2hrs)
Cleverly concise. Effective. Admirably succinct. Consistent and restrained. Refined and minimal. In this movement workshop, April Rose applies pleasingly ingenious simplicity to dance technique and choreographic composition. Using a release technique approach to belly dance, participants engage with exercises designed to increase neuromuscular efficiency and build phrases characterized by graceful ease, apparent effortlessness, and luxurious timing.
Saturday 1:00-3:00pm (GCC)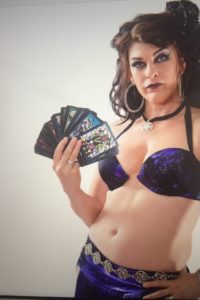 Madame Onça: Tarot for Everyone! History & Hands-On How-To (2hrs)
This all levels workshop offers both a historical overview and hands-on practice. Tarot is an empowering, intuitive tool for self-awareness, rich with history. Emerging from centuries of tradition and superstition, the tarot is also evolving with the times, as artists and readers work to deconstruct systemic oppression and the gender binary. Let's explore the cards, with some special attention to their role as a barometer of cultural values. Class will discuss the structure of a traditional deck. In addition, we will explore some elegant card reading formats that you can utilize On-The-Go. If you don't have cards, no problem. If you DO have a deck of tarot cards, it's show and tell time! The more the merrier!
Madame Onça's decks will also be for sale.
Saturday 3:15-5:15pm (AMC)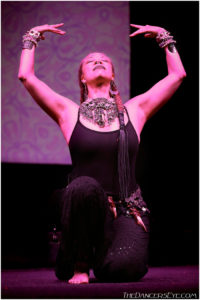 Donna Mejia: CORE-ography (2hrs)
How important is your core alignment and musculature to your dancing? It is unequivocally and absolutely critical to an intelligent and coherent approach to any movement in any genre of dance. Donna Mejia has managed to maintain an active dance practice through multiple abdominal surgeries, pregnancy and more… all through a focus on core abdominal strength. In this workshop, Donna offers an array of exercises and practices intended to raise the intelligence of your lower back/lumbar region and abdominal wall. Please note that we will be utilizing a yoga mat for these investigations. Donna will illustrate how to use other common household items to further your training anywhere, regardless of whether or not you have access to a gym or dance studio. The integration of breath is the final "Jedi training" clincher to these transformative practices. Our goal is not a flat stomach; it is a formidably strong core that will support your grandest and most virtuosic possibilities. The good news is that this training has beneficial applications beyond your dance practice, so please bring those notebooks and questions and let's dig in deeply!
Saturday 3:15-5:15pm (GCC)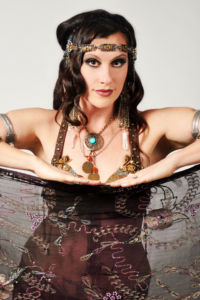 Rose Harden: Boom Pow - Heavy Hitting Hip Work (2hrs)
This is a non-stop movement practice with one goal – bigger, better hip work! Solidify your shimmy work with an in-depth focus on this essential belly dance technique as I share with you my unique approach to achieving big, juicy shimmies. We'll get into the nitty gritty details as we define different kinds of shimmies: 4/4, 3/4 and different timing within those. We will incorporate dynamic drills to take hip isolations to the next level, as well as keeping hipwork strong and dynamic when fusing it with full-body movement. You will walk away with lots of material for your personal practice.
Sunday 9:00-11:00am (AMC)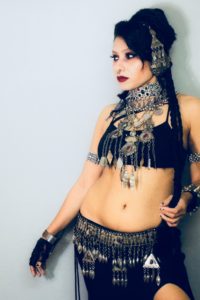 Bindu Bolar: 'MAHAKAAL' -Indian Fusion Belly Dance (2hrs)
A choreography workshop influenced by someone who is as revered as the ecstatic Cosmic Dancer in Indian Mythology: Lord Nataraja. This choreography will include some intense footwork and hip-work symbolizing Tandav, the dance of destruction, as well as graceful arms and torso movements symbolizing Laasya, the dance of creation. A blend of Indian semi-classical mudras and movements with belly dance, this choreography is a dedication to a deity who is not bound by space, time or dimension.
Sunday 9:00-11:00am (GCC)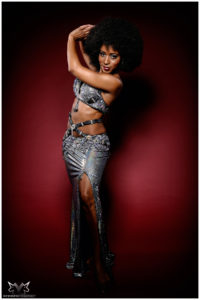 Ebony Qualls: Urban Fusion Technique (2hrs)
Explore a fun and unique spin on tribal fusion belly dance. Learn combinations which are influenced by urban styles found in hip hop, retro funk styles such as popping, and the timeless influence of Raqs Sharqi. Build coordination, work on isolating movements, and expand your dance style with unusual undulations. This workshop will be high energy, prepare to sweat and have fun. Dance shoes recommended but not required.
Sunday 11:15am-1:15pm (AMC)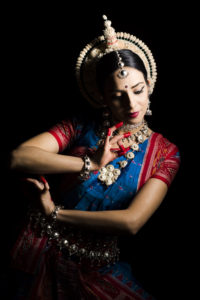 11:15am-1:15pm Tejas: Odissi, East Indian Classical Dance (2hrs)
Learn Graceful Odissi Steps, Learn the Nava Rasa: the Nine Emotions, and Learn the Mudras: Hand Gestures of Classical Indian Dance. Learn a Prayer Dance and its meaning set to the Mantra, Asatoma Sat Gamaya.
Sunday 11:15am-1:15pm (GCC)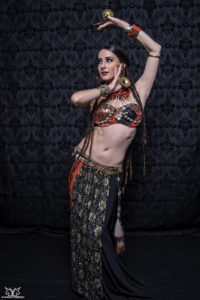 April Rose: Bellydance Listening Comprehension (2hrs)
Identifying and dancing to Arabic (and more) rhythms and instruments.
Participants learn to identify fundamental Arabic rhythms, instruments, and theoretical concepts that are common to classic and modern belly dance music. Additionally, dancers learn what regional folk practices some of these rhythms reference and how to intelligently dance to them. Through lecture and movement, dancers are guided and invited to practice informed musical interpretation and the art of the taqsim, and increase their love of this dance form through the music it is inextricably tied to. To showcase each rhythm and instrument, April Rose presents a repertoire of classic songs that all bellydancers should know.
-All Levels
Sunday 1:30-4:30pm (AMC)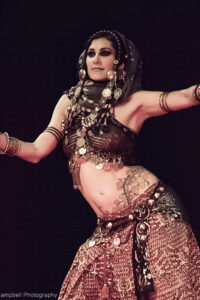 Rachel Brice: Tricky-Gooey-Shimmy: Guiding Principles of Datura Style (3hrs)
Combine American Cabaret and Fusion styles of belly dance with a heady dose of rhythmic trickery, contrast, and dramatic quality changes. Chill. Lay these on a bed of rib cage circles, seemingly boneless arm work, and huge, relaxed hips for a double-layered-triple-threat. Serve hot.
You learn them, they're yours. Use these combinations in your next choreography or integrate these Datura Style combos into your improvisational vocabulary.
Experience with belly dance recommended, these will be complex. Brush up on your spins and isolations for this one, bring a towel and water bottle. (Intermediate through advanced)
You learn them, they're yours. Use these combinations in your next choreography or integrate these Datura Style combos into your improvisational vocabulary.
Intermediate through advanced levels. Experience with belly dance recommended, these will be complex. Brush up on your spins and isolations for this one, bring a towel and water bottle.
Sunday 1:30-3:30pm (GCC)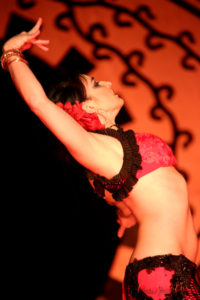 Silvia Salamanca: Tribal Bellydance Meets Flamenco! (2hrs)
A gypsy Spanish twist to tribal movements and combinations. Combine the precision and sharpness of tribal with the fire of flamenco expression and you get a series of exciting steps, combinations and tribal-flamenco formations to take home and leave everybody speechless! Emphasis will be put on posture, arms and spins, and special focus will be on hand movements. (All levels)